Loughcrew Equinox - 21st September 2008
On Sunday 21st September a group of over 100 early risers waited patiently for the sun to break through the mist and cloud, unfortunately the mist and cloud persisted with only fleeting glimpses of light in the chamber.
Despite the disappointing conditions the group was good humoured and it was a chance to met old friends and make some new friends.
Loughcrew Video - Spring Equinox 2005

The progress of the sunbeam on the backstone inside Cairn T at Loughcrew was video recorded at sunrise on the morning of March 23rd 2005. The 50 minute video has been compressed to 1 minute 46 seconds and included in the following YouTube Video.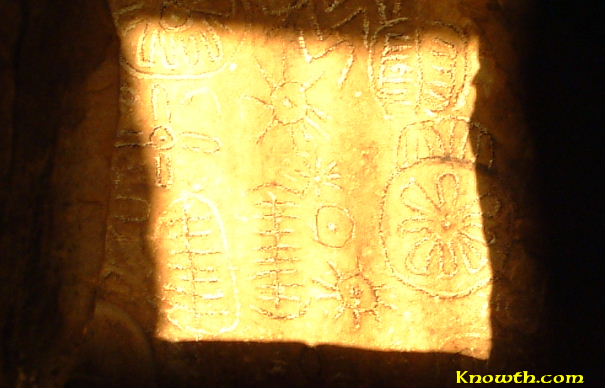 Still photograph from the 2005 Spring Equinox.
More photographs ...
Boyne Valley Private Day Tours
Pick up and return to your accommodation or cruise ship. Suggested day tour: Newgrange World Heritage site, 10th century High Crosses at Monasterboice, Hill of Tara the seat of the High Kings of Ireland and the Hill of Slane where St. Patrick let a Paschal fire in 433
More ...