Loughcrew Equinox Dawn September 2018
The Office of Public Works will have staff in attendance at Cairn T, Loughcrew on the mornings of Friday the 21st September, Saturday 22nd September and Sunday 23rd September from 7.15am until 8.30am.
Admission to the Chamber of Cairn T is free of charge.
As the chamber is quite small, only 5 or 6 people can be inside at a time. Visitors are requested to stay inside for only a few minutes so that everyone can get a chance to visit.
Please note that it is very important that visitors dress warmly and are wearing stout shoes. The climb to the top of Carnbane East is very steep and can be slippery after rain or on frosty mornings.
The Equinox occurs twice a year, the Spring Equinox in March and the Autumn Equinox in September. The Spring Equinox is an hour earlier because it occurs during our winter time, so take this opportunity of seeing the rising sun illumunation and have an extra hour in bed.
Loughcrew Autumn Equinox
All those who made the effort to get up early on Sunday the 20th September 2009 were rewarded by a glorious sunrise that illuminated the backstone inside the chamber of Cairn T. The atmosphere was friendly and relaxed and everybody got to spend time in the chamber and witness first hand the illumination of the backstone.
More...
Loughcrew Video - Spring Equinox 2005
The progress of the sunbeam on the backstone inside Cairn T at Loughcrew was video recorded at sunrise on the morning of March 23rd 2005. The 50 minute video has been compressed to 1 minute 46 seconds and included in the following YouTube Video.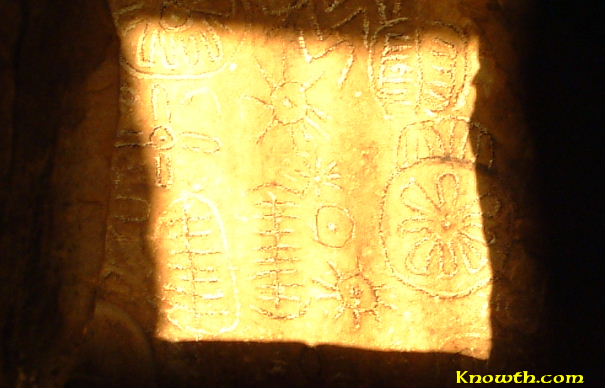 Still photograph from the 2005 Spring Equinox.
More photographs ...
Boyne Valley Private Day Tours
Pick up and return to your accommodation or cruise ship. Suggested day tour: Newgrange World Heritage site, 10th century High Crosses at Monasterboice, Hill of Tara the seat of the High Kings of Ireland and the Hill of Slane where St. Patrick let a Paschal fire in 433
More ...